My Dad and Mom were a little nervous about my arrival at first.  After all, my Mom is about to turn 42 and my Dad is 50, and they thought maybe they were a little old for the parenting adventure about to begin.  They say, though, that as soon as they saw me all their fears melted away.  I think I've also persuaded them that I will be very patient with them as the years go on.  Plus, all the wonderful presents sent from family and friends when I was born came with offers of support and encouragement that made them feel even more brave.  We are looking forward to our years ahead together, and we know that they will be filled with laughter and adventure and an awful lot of love.  We look forward to sharing those years with all of you.

Love,
Nic, Linda, and Arthur

P.S. - To see more photos click here....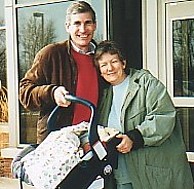 Our happy family leaving the 
hospital and heading home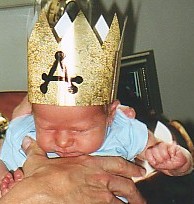 King Arthur!