Allow me to introduce myself.  My name is Arthur Daniel DressenWall and I arrived in the world at 6:22PM on February 20, 2002, or 20-02, 2002.  The numerologists were pretty excited about that date (and so were the math teachers in my daddy's school) -- won't be another like it for a thousand years, they say.  All I know is that for me and my mom and my dad, it will ALWAYS be a day like no other.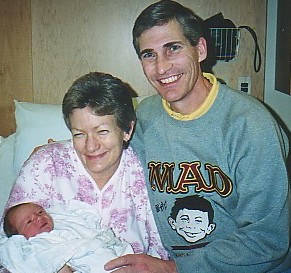 This is Mom, Dad and I the next day:  we're feeling
much better now!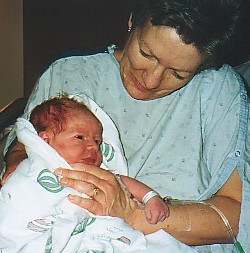 This is Mom and I shortly after I entered the
world:  we're both looking and feeling a little
rough yet!
In case you're the kind who's interested in vital statistics, I should probably tell you that I weighed 7 lbs., 15 ozs. and was 21 inches long when I finally decided to emerge from the womb and brave the lights of the outside world.  I surprised everyone by showing up with a full head of red hair.  There are Lalley's on my Mom's side and Grourke's on my Dad's who bring the Magic of the Irish to my heritage, but no one suspected it would show up so prominently in me!